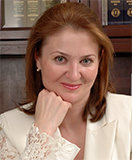 Location:
Bellevue, Washington
Phone:
(425) 289-0629
Fax:
(425) 289-0636
Legal Expertise
Lana Kurilova Rich PLLC is a full service tax, business, and wealth transfer planning law firm. Tax law is one of the most complicated fields in the legal profession. Whether you owe back taxes or want to protect your family and assets through comprehensive estate planning or a simple Will or a living trust, Lana Kurilova Rich can assist you.
Lana Kurilova Rich solves your problems, rather than simply identifies them and tells you what you cannot do. She proactively helps you find solutions to achieve your goals, reduce your risk through conscientious step-by-step planning approach.
Business Acumen
Prior to becoming a lawyer in the United States, Lana Kurilova Rich was an auditor and later a project manager for a large fiber optics telecommunications company. She is an experienced business person and will work closely with you to protect your interests, limit your risk exposure, and ensure your company's growth.
International Understanding
Doing business globally is the norm nowadays for many businesses. But with international commerce come international legal challenges. Lana Kurilova Rich brings your company the benefit of her legal experience and years spent in Russia. Born and raised in Russia, she is fluent in Russian.
Personal Attention
Lana Kurilova Rich provides comprehensive, personalized legal services to individuals and businesses. The touchstone of her practice is her desire and ability to relate with her clients and to promote the environment in which they feel comfortable discussing sensitive and difficult issues.
Lana Kurilova Rich values creating long-standing relationships of trust with each of her clients. She makes it a priority to make time to talk with her clients when they call, promptly return each phone call and quickly respond to each email they send her. You will not experience the aggravation of being unable to reach your attorney, guaranteed.
Education and Experience
Lana Kurilova Rich earned her first law degree from the Far Eastern National University School of Law in Vladivostok, Russia. She is licensed to practice law in the Russian Federation and in the State of Washington. Lana Kurilova Rich earned her Master of Business Administration degree from Alaska Pacific University in Anchorage, Alaska. She then spent several years working as an auditor for a large corporation and later as a project manager for a national fiber optics telecommunications company. She earned her Juris Doctor degree from Seattle University School of Law and her Master of Laws in Taxation from the University of Washington School of Law. She is a former Law Clerk to the Honorable Elaine Houghton of the Washington State Court of Appeals, Division II.
Areas of Practice
Taxation Law
Estate Planning
Trusts
Probate & Estate Administration
Immigration & Naturalization Law
Immigration Law
Business Law
Education
University of Washington School of Law, Seattle, Washington

Master of Laws (LL.M.) in Taxation - 2007

Seattle University, School of Law, Seattle, Washington
Far Eastern National University Law Institute, Vladivostok, Russia
Alaska Pacific University, Anchorage, AK, USA

Major: Emphasis in Finance
Professional Associations and Memberships
Washington State Bar Association, Attorney, 2003 - Present
American Immigration Lawyers Association, Lawyer, 2005 - Present
Past Employment Positions
Lana Kurilova Rich PLLC, Attorney, 2003 - Present
Washington State Court of Appeals, Division II, Law Clerk to the Hon. Elaine Houghton, 2004 - 2005
Far Eastern National University (Vladivostok, Russia), Director of International Projects, 2001 - 2005
MFS Network Technologies, Inc. (AK, OR, WA), Telecommunications Project Manager, 1997 - 2001
First National Bank of Anchorage, AK, Internal Operations Auditor, 1995 - 1997
Pro Bono Activities
Low Income Taxpayer Clinic, 2006 - Present
Ancillary Businesses
Our firm provides federal and state tax preparation
We also provide bookkeeping services
Licensed attorney in Russia, 1993